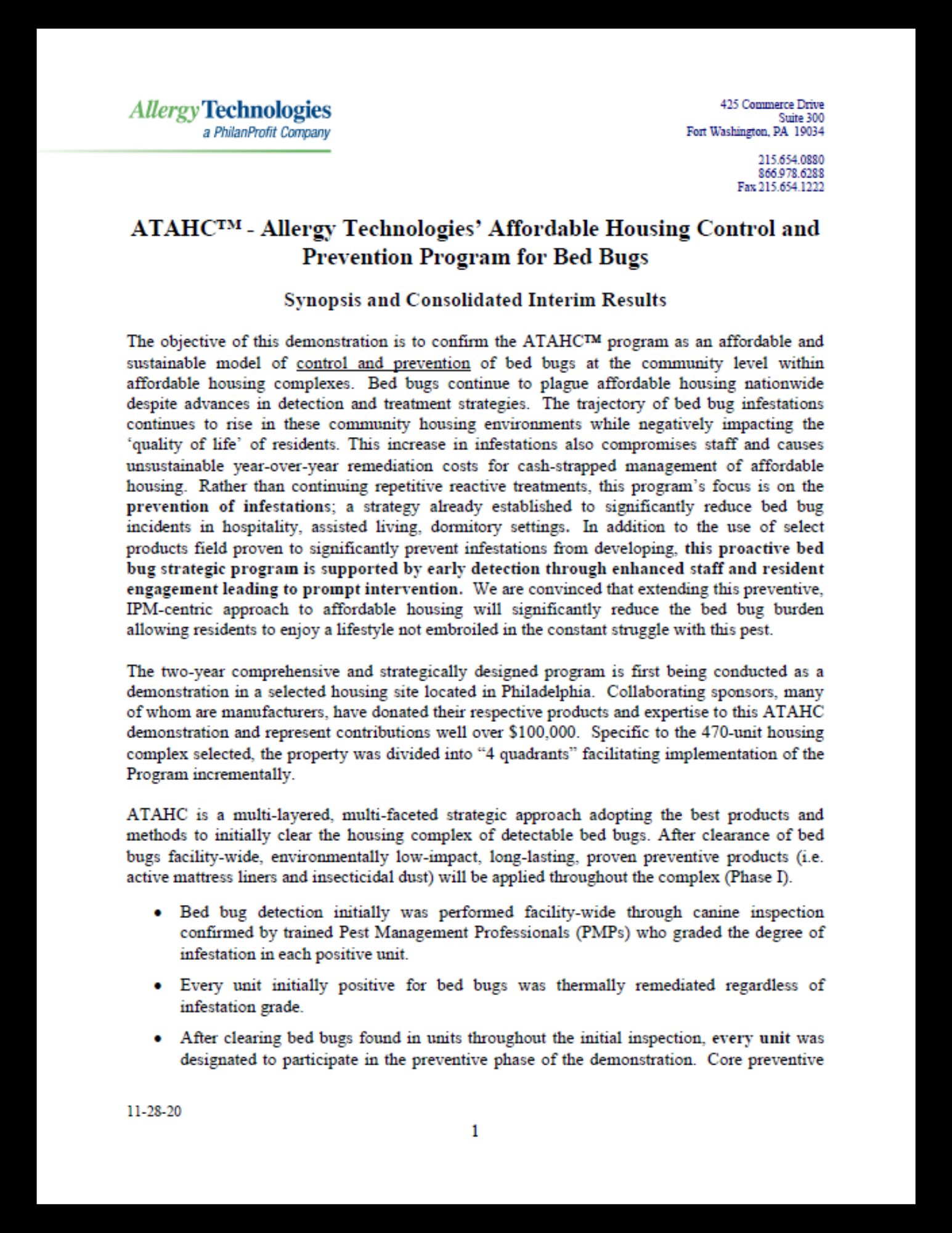 ATAHC – Allergy Technologies' Affordable Housing Control and Prevention Program for Bed Bugs Synopsis and Consolidated Interim Results - November 2020
The ATAHC™ program is an affordable and sustainable model of control and prevention of bed bugs at the community level within affordable housing complexes. Rather than continuing repetitive reactive treatments, this program's focus is on the prevention of infestations; a strategy already established to significantly reduce bed bug incidents in hospitality, assisted living, dormitory settings. In addition to the use of select products field proven to significantly prevent infestations from developing, this proactive bed bug strategic program is supported by early detection through enhanced staff and resident engagement leading to prompt intervention.
---

Additional Research
5 Questions - with Joseph Latino - PMP Magazine January 2018
- During the National Pest Management Association's PestWorld meeting in Baltimore in October, Latino, president of Allergy Technologies LLC, convened the "Bed Bug Prevention Think Tank," a gathering for an honest, industry-wide discussion of creating guidelines for a proactive bed bug management program. This approach would be a sea change from the industry's current common model of reactive bed bug management and follow-up inspections, but Latino says he believes that there's ample opportunity for this program to become a success.
---
Discover the Power of Bed Bug Prevention - Stop the Bites...Prevent the Infestation...Preserve the Reputation - PCT January 2018
- In 'Discover the Power of Prevention', we explore the current bed bug situation and outline how a pest management professional (PMP) can execute a proven-effective prevention program with ActiveGuard Mattress Liners; the "best liner of defense" between bed bugs and guests.
---
Putting a Stop to Bed Bugs - Florida Bed Bug Prevention Symposia Recap - PCT Bed Bug Supplement, December 2017
---
Bed Bugs & Prevention…Is It Possible? by Drs. Phil Koehler, Susan Jones, James Ballard and Ms. Gail Getty, PCT Bed Bug Supplement, December 2016
- Given the ubiquitous nature of this insidious pest that thrives in transient environments, can a cost-effective and sustainable prevention program be implemented, consistent with the best practices of integrated pest management? Let's see what four (4) experts have to say!
---
An Ounce of Prevention - as seen in Pest Management Professional, November 2016
- M&M Environmental demonstrates the effectiveness of ActiveGuard® Mattress Liners for senior living facilities against the threat of bed bug reinfestation.
---
Protection that Lasts - by Timothy Wong, PCT Bed Bug Supplement, September 2016
- Field Data evidencing ActiveGuard®'s ability to prevent bed bug infestations in a large assisted living facility.
---
The Medical Importance of Bed Bugs - by Ben Hottel, Roberto M. Pereira, and Philip G. Koehler as seen in Pest Pro: From the University of Florida Entomology to Landscape and Pest Managers , July / August 2016
- While there remains no evidence that bed bugs convey disease at the present time, the ramifications of bed bug bites remain widespread.
---
'Do Not Disturb'; an editorial by PCT Magazine reflective of Allergy Technologies' Two Year Hotel Case Study - as seen in PCT Magazine, June 2016
---
The influence of time and distance traveled by bed bugs, Cimex ectularius, on permethrin uptake from treated mattress liners - by STEPHEN A KELLS AN SABRINA N HYMEL Society of Chemical Industry published April 21, 2016
- ActiveGuard® - a permethrin-treated fabric, provides a surface from which bed bugs begin rapidly to absorb permethrin on contact and within the first 1 cm of travel. Within 10 minutes of contact (or 4 cm of travel), approximately 42 ng is absorbed per insect.
---
Sublethal Effects of ActiveGuard® Exposure on Feeding Behavior and Fecundity of the Bed Bug (Hemiptera: Cimicidae) - by SUSAN C. JONES,1 JOSHUA L. BRYANT, AND FRANCES S. SIVAKOFF
Journal of Medical Entomology Advance Access published April 1, 2015
-Laboratories studies investigate the sublethal effects of ActiveGuard® Mattress Liners on feeding behavior and fecundity (fertility) of bed bugs. The study indicated that even brief exposure of 10 min to ActiveGuard fabric appeared to decrease feeding and fecundity of pyrethroid-resistant and susceptible bed bugs, suggesting the potentially important role of sublethal exposure for the control of this ectoparasitic insect.
---
ActiveGuard®'s Sub-Lethal Effects Reduce Pest Impact of Bed Bugs
Permethrin-impregnated mattress liners prevent even highly resistant bed bugs from feeding and laying eggs.
---
Bed Bug Allergy Technology News by Kristen Hampshire PCT June 2015
Research out of Ohio State finds treated liners look promising for bed bug control.
---
ActiveGuard® Mattress Liners for Bed Bug Control – PCT Supplement October 2013 by James Ballard, PhD
- A comprehensive review of the genesis of insecticide-impregnated fabrics with segments on: the modern use of long-lasting insecticide bed nets for bed bug control; understanding resistance in bed bug populations; and, what happens when bed bugs are exposed to active liners?
---
Behavioral Responses of the Bed Bug to Permethrin-Impregnated ActiveGuard® Fabric
By Susan C. Jones, Joshua L. Bryant & Scott A. Harrison
- Laboratory studies indicated that ActiveGuard® adversely affected bed bugs from diverse populations and degrees of resistance. The fabric was deemed to be non-repellent to bed bugs from five tested populations. Furthermore, with a limited thirty minute exposure to ActiveGuard®, bed bugs from every strain studied demonstrated an impairment in their ability to feed to repletion.
---
The Installation of ActiveGuard® Mattress Liners for the Prevention of Bed Bug (Cimex lectularius) Infestation in Hotel Rooms -by James B. Ballard - PCT November, 2011
- ActiveGuard® Mattress Liners appear to have great potential in killing bed bugs that come into contact with the liner when installed on mattresses or box springs in a standalone preventative situation. ActiveGuard® continues to be efficacious after approximately 2 years of constant hotel use.
---
Controlling Bed Bugs in Transient Housing Facilities -
by J. Ballard, P. Alley, D. Reeder & J. Latino - PCT August, 2011
- A demonstration of a cost effective, efficacious bed bug remediation program studied over one year including ActiveGuard® Mattress Liners for long-term control.
---
ActiveGuard® Mattress Liner Field Trial Results -
by James B. Ballard Mattress Liner Field Trial Results - by James B. Ballard Mattress Liner Field Trial Results - by James B. Ballard - PCT March, 2010
- Initial field trials indicate that the installation of ActiveGuard® Mattress Liners on mattresses and/or box springs that have been largely cleared of bed bugs is a viable use of the product as a component step within a bed bug control program.
---
Bed Bug Control Protocols and Observations from the Field
By Jim Ballard - PCT
- A global review of current bed bug control strategies with commentary on areas of improvement including emerging new technologies and the need for cost-effectiveness.
---
A New Option
by James B. Ballard - PCT
- According to the following research, a new mattress liner can be used as part of a comprehensive program to help control bed bug infestations.